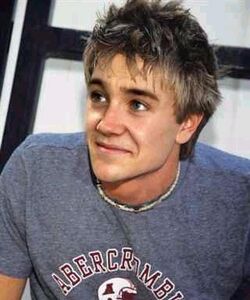 Tom Felton
Edit
Thomas Andrew "Tom" Felton (born 22 September 1987) is an English actor and singer. He is best known for playing the role of Draco Malfoy in the Harry Potter film series, the movie adaptations of the best-selling Harry Potter fantasy novels by author J. K. Rowling. Felton started filming in commercials when he was eight years old and in films at the age of ten, appearing in The Borrowers and Anna and the King. After being cast as Draco Malfoy he has subsequently appeared in all five Harry Potter films, from 2001 to 2007. Felton will also return for Harry Potter and the Half-Blood Prince, due to be released in 2009. A fishing aficionado, he helped form the World Junior Carp Tournament, a "family-friendly" fishing tournament.
In Harry Potter
Edit
Ad blocker interference detected!
Wikia is a free-to-use site that makes money from advertising. We have a modified experience for viewers using ad blockers

Wikia is not accessible if you've made further modifications. Remove the custom ad blocker rule(s) and the page will load as expected.