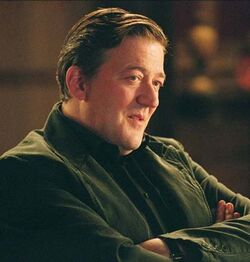 Stephen Fry
Edit
Stephen John Fry (born 24 August 1957) is an English actor, writer, comedian, author, television presenter and film director. With Hugh Laurie, as the comedy double act Fry and Laurie, he co-wrote and co-starred in A Bit of Fry and Laurie, and the duo also played the title roles in Jeeves and Wooster. Fry played the lead in the film Wilde, was Melchett in the Blackadder television series and is the host of the panel comedy trivia show, QI. He has contributed columns and articles for newspapers and magazines, and has written four novels and an autobiography, Moab Is My Washpot. He has also presented his 2008 television series Stephen Fry in America, which saw him travelling across all 50 U.S. states in six episodes. Recently Fry has become known to American audiences for his recurring guest role as Dr. Gordon Wyatt on the FOX crime series Bones.
In Harry Potter
Edit
Ad blocker interference detected!
Wikia is a free-to-use site that makes money from advertising. We have a modified experience for viewers using ad blockers

Wikia is not accessible if you've made further modifications. Remove the custom ad blocker rule(s) and the page will load as expected.