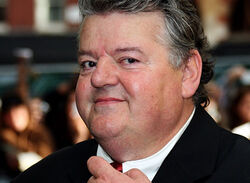 Robbie Coltrane
Edit
Robbie Coltrane, one of Britain's most popular comedians who was head of debating society at school, and won prizes for his art, is now an international film star who played in two James Bond films, and appeared as Rubeus Hagrid in the 'Harry Potter' franchise.
Harry Potter
Edit
Robbie Coltrane was the very first person to be cast in Harry Potter and the Sorcerer's Stone (2001) and Harry Potter and the Philosopher's Stone TV Serie. In fact, he was selected for the role of Hagrid by Harry Potter author J.K. Rowling.
Robbie plays him all seven seasons and films.
In Harry Potter
Edit
Ad blocker interference detected!
Wikia is a free-to-use site that makes money from advertising. We have a modified experience for viewers using ad blockers

Wikia is not accessible if you've made further modifications. Remove the custom ad blocker rule(s) and the page will load as expected.