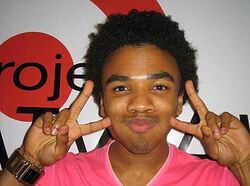 Luke Youngblood
Edit
Luke Youngblood is the actor who plays Lee Jordan, starting in Harry Potter and the Philosopher's Stone. Luke also plays Ben in "The story of Tracy Beaker". When he was filming in London, he visited Madame Tussauds, the famous waxworks with his friends James and Oliver Phelps.
In Harry Potter
Edit
Ad blocker interference detected!
Wikia is a free-to-use site that makes money from advertising. We have a modified experience for viewers using ad blockers

Wikia is not accessible if you've made further modifications. Remove the custom ad blocker rule(s) and the page will load as expected.