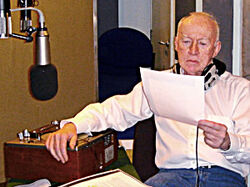 Jim Norton
Edit
Jim Norton (born 4 January 1938) is an Irish Tony Award-winning character actor.
Jim Norton has been acting for over forty years in theatre, television, and movies, and frequently plays clergymen, most notably Bishop Brennan in the sitcom Father Ted, as well as in The Sweeney (1977), "Peak Practice" (1993), Sunset Heights (1997), A Love Divided (1999), Rebus: Black and Blue (2000), Mad About Mambo (2000), and Boxed (2003).
As well as Bishop Brennan in Father Ted, he also played Albert Einstein in two episodes of Star Trek: The Next Generation. He appeared in two episodes of Van der Valk, and on Babylon 5 he appeared in a number of roles including; the Ombuds, a judge; a Narn; and Dr. Lazarenn, a Markab doctor.
He also starred in Agatha Christie's poiroit He also appeared in Waking the Dead, Cheers and Frasier. He played the role of Stan Laurel in the BBC drama Stan.
He appeared in the 1969 epic film Alfred the Great as Thanet. In 1971 he played "Chris Cawsey" (aka "The Rat Man"), one of several villains in the controversial Sam Peckinpah movie Straw Dogs starring Dustin Hoffman. His character had a deviously infectious, purposefully irritating laugh that helped build tension throughout the film.
He starred in the movie Memoirs of an Invisible Man alongside Chevy Chase in 1992. He appeared in a brief cameo in Harry Potter and the Chamber of Secrets in 2002 as Mr. Mason. He can also be seen in the 2008 holocaust film The Boy in the Striped Pyjamas.
In Harry Potter
Edit